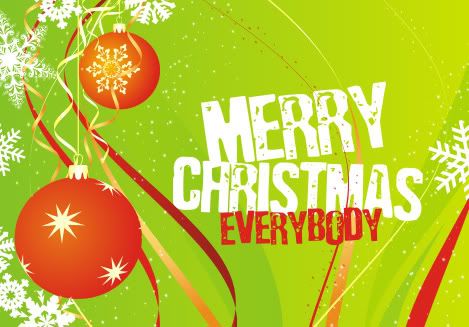 image from Photobucket
MERRY, MERRY CHRISTMAS TO EVERYONE. Go easy on the food and alcohol.
Every year, I get reminded how much I love this season each and every time my family gather all around to share what we can share, dote on little kids running and screaming on the lawn, watch the kids excitedly open their gifts that no matter how small and cheap you got for them you always get a heart-warming and enthusiastic smile, and just feel how happy everyone is to be with each other today.
Thank you God for the gift of family, friendship, and love.
Thank you especially for the gift of life. That I am able to see and hear the wonderful beings and creatures that you have created. Thank you for the ability to feel and experience nature.
Thank you simply for everything. I am always at a loss for the most appropriate word to condense how grateful I am for all the blessings You have showered for there isn't.. there is no word enough to offer for your Magnificence.
Glory be to You. HAPPY BIRTHDAY!