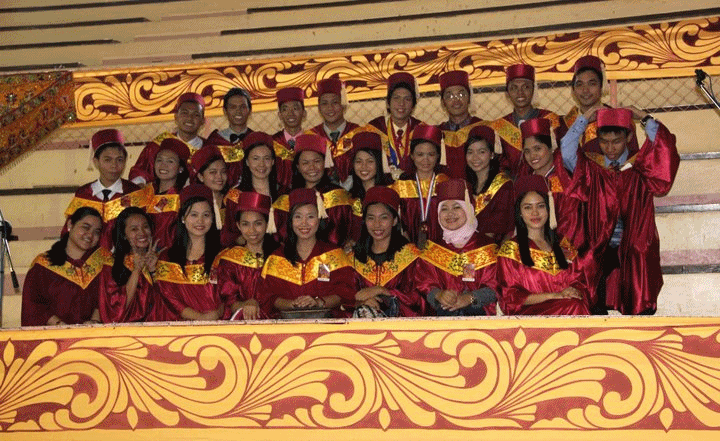 College graduation, our final march, was an inexplicably momentous event. Inexplicable because a mixed bag of emotions surged through me ---pride, triumph, happiness, excitement, and sadness. It was all of it in two memorable days of my life.
Five years worth of sleepless nights, stressful days filled with uncertainties, laughter and tears; all for one piece of paper. I receive its symbolism with open acceptance and anticipation for the future. I have no solid plans yet apart from the imperative review for the licensure exam in Manila in a few weeks. There is a nagging voice, a part of me, wanting to be graded forever, be in the college lounge talking and laughing, be in class grumbling over strict schedules and receive allowance from my folks everyday. But the world does not work that way, sooner or later I need to face the apprehensions in finding a job and fending for myself including THE whims and excesses. Independence suddenly ceased to sound appealing anymore.
Sentimental thoughts began to well up when the Institute President officially conferred our degrees. We shouted with glee, hugged those close to us, took an awful lot of pictures, fought our way through a bevy of people heading to the stage and craned our necks for old friends lost in the sea of faces. I kept my tears at bay as I observed all my friends trying to freeze time, avoiding sad goodbyes. But alas, we knew at the back of our minds it cannot be avoided. Many often talk of parting ways, it tugs everyone's emotional heartstrings. No matter how tough someone might be, there exists a certain sentimentality. The only way to overcome it is submission. I do mine in private. I cannot subject myself to vulnerability in a sea of faces I barely know. I have issues and I have my own way of coping.
College may not have been everything I wanted and imagined it to be but it was good while it lasted. The precious time I had in IIT was not wasted, all nine years of it. Both my high school and college years in the same school was well spent with a mixed bunch of unforgettable people. Some of them may leave my life as quickly as they came but I deeply wish that some of them will stay for the rest of my life regardless of their whereabouts in the future.
KUDOS Graduates of 2011.
what follows are pictures. a handful of it. ;p
Mom on her response speech
to all the graduates in behalf of all the parents.
the unspoken agreement of evading
we were all so busy trying
to somehow freeze time but alas
a chapter of our lives was closed
it was time to flip to a new page, a new chapter.
early dinner at one of my fave restaurants in town
i was never a fan of big parties and big crowds
and in celebrations like this, i want it small and intimate.
(l-r) Aisa, Balt, Me and Aliyah.
Friends who greeted us with congratulatory smiles
after the institute graduation! THANK YOU!
(l-r) Jipui, me, Camay, Ian, Soi (w/ Keith's flowers) and Keith
High school friends. College buddies. Almost a decade of friendship
A lot, a whole lot of memories. Soon , pretty soon
the mention of goodbyes will be inevitable as we go our separate ways.
But I am pretty sure, what we had, the familiarity will always be there!